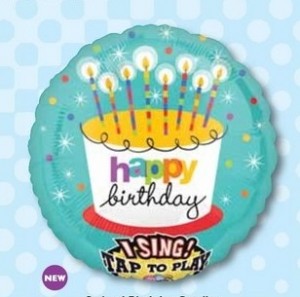 The Tickle Trunk Balloon & Party Store inKelowna,BCis the Okanagan's largest retailer of one of the most innovative balloons ever created – The Singing Balloon !.
The Singing Balloon is a jumbo 34" helium filled foil message balloon.
The high quality song chip plays music for all occasions or you can record your own message.
Singing balloons will play over 50 times! Singing balloons are priced from $19.99 – $24.99 and can be given by itself or part of a bouquet of latex balloons for that "WOW" factor. (3, 6 or 9 balloons are recommended.)
Give us a call to help plan your next party!!!
The Tickle Trunk
#44 – 1855 Kirschner Rd
Stewart Centre North
Kelowna, BC V1Y 4N7
P. 250.868.8254 F. 250.860.7355
info@tickletrunk.ca
www.tickletrunk.ca
Kelowna Party Supply Store