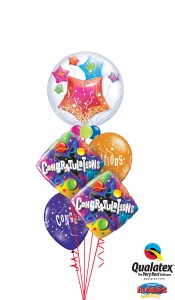 Choose from one of our current BEST BALLOON BOUQUETS or have our experienced and creative balloon artists/staff personalize a balloon bouquet perfect for any occasion.
The Tickle Trunk Balloon & Party Store in Kelowna, BC carries the Okanagan's largest selection of latex and foil balloons so the possibilities are endless.
The true value of a large and colourful balloon bouquet is reflected in the faces of the thousands of people who have received a distinctive Tickle Trunk balloon bouquet for a:
 Birthday
 New Baby
 Retirement
 Get Well
 Anniversary
 Goodbye / Bon Voyage
 Congratulations
 I Love You
 Valentines
 Thank You
 Thinking of You
To complete the surprise we can "weigh" the bouquet with one of our many in-store fun gifts from Jelly Bellies to Rogers Chocolates to TY plush animals to one of hundreds of gag gifts. All of this can be delivered be one of our enthusiastic staff with or without costume.
The value continues when a Tickle Trunk balloon bouquet stays floating for 8-10 days and most times beyond!
The Tickle Trunk
163 – 1855 Kirschner Rd – Stewart Centre North
Kelowna, BC V1Y 4N7
P. 250.868.8254 F. 250.860.7355
info@tickletrunk.ca
www.tickletrunk.ca
Kelowna Party Supply Store