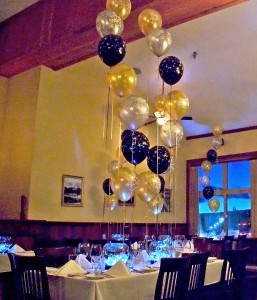 The Tickle Trunk Balloon & Party Store has been decorating with balloons in Kelowna and the Okanagan since 1989.
Whether a wedding, theme party, tradeshow, promotion or any other corporate event, balloons are a cost-effective yet a most impressive decorating medium when utilized by our trained balloon professionals.
Whether basic balloon pillars and arches to more complex balloon sculptures to just simple balloon bouquets to become or to attach to a centerpiece, The Tickle Trunk is the Okanagan's leading balloon decorator.
Many large open spaces are filled economically with well-placed balloon bouquets and arched lines of helium balloons. As we are familiar with most Okanagan venues, we can often quote the job by phone or email but would be more than happy to visit the site.
The Tickle Trunk
163 – 1855 Kirschner Rd – Stewart Centre North
Kelowna, BC V1Y 4N7
P. 250.868.8254 F. 250.860.7355
info@tickletrunk.ca
www.tickletrunk.ca
Kelowna Party Supply Store